Most Australians their wealth tied up in the family home and Superannuation. For a fortunate few, wealth outside the family home and Superannuation can be considerable.
The responsibility you carry to manage these assets wisely should not be underestimated. Not just for your own future well-being but potentially for the generations coming who could benefit as well. LifeTime Financial Group recognises the gravity of this responsibility and to that end has developed a Directly Held Investment Portfolio service that is both accountable and auditable and is professionally managed on an ongoing basis.
What is a Directly Held Investment Portfolio?
It is a portfolio of investments held in either a personal name/s or via a trust arrangement.
How does LifeTime Financial Group manage your investments?
To facilitate accurate reporting, we use an internal wrap platform that allows us to manage and report on a very broad range of assets including equities, direct property you already own, exchange traded funds, preference shares/hybrid fixed interest investments, term deposit arrangements and a cash management account. It is important to note all assets are physically held in the name of the entity rather than as Custodian. This means the assets are yours (Or the entity) and yours only.
Whilst these funds in the cash management account are yours, we insist that all transactions are managed by LifeTime Financial Group through the cash management account established specifically for managing your overall position. This ensures all transactions are accurate and accounted for.
There is a range of transactions occurring in the cash management account on an ongoing basis. Dividends been paid in, our fees been drawn, additional funds invested or withdrawn as directed by you etc.
Preparing and filing minutes whenever a decision is made ensures all transactions are both approved and understood.
Regular monthly reporting of both your holdings and the cash management account ensure you are always up to date. You are also able to access the information on-line at any time to view all assets.
To assist with the preparation of an accurate and timely tax return, we produce an export file for your accountant to import all relevant information.
How much will this cost me?
The simple answer is less than you think.
Whilst most platforms charge a fee based on a percentage of Funds under management, LifeTime Financial Group offers a highly competitive fee structure for ongoing management of and reporting on your investments. Our fees are often less than half of what a wrap platform will charge.
There is also an ongoing advice and guidance fee. You may have come across an adviser service fee if you have used the services of a planner in the past. These are generally set at 1.1% of Funds under management by most advisors rather than on the work anticipated. Again, our costs are based on reasonable time expectations.
Our overall cost structure (Ongoing advice and Ongoing management of the funds) is often less than half of what a retail or wholesale platform charges. In most cases, our ongoing fees are also deductible making them even more competitive.
What does a Directly held investment portfolio look like?
Typically, our clients will have a structure through which the entity invests. There are many variations in use by our clients. They include Discretionary trusts, Companies or simply individual investors. Regardless of the structure, the LifeTime Directly Held Investment Portfolio can be tailored to your needs.
The service includes
a cash hub managing all inflows and outflows,
a trading facility allowing for investments in equities, exchange-traded funds and hybrid fixed interest assets and
an online banking portal enabling us to manage excess cash by ensuring those funds are always placed to receive competitive rates without having to complete the 100 points check each time you need to move funds from one bank to another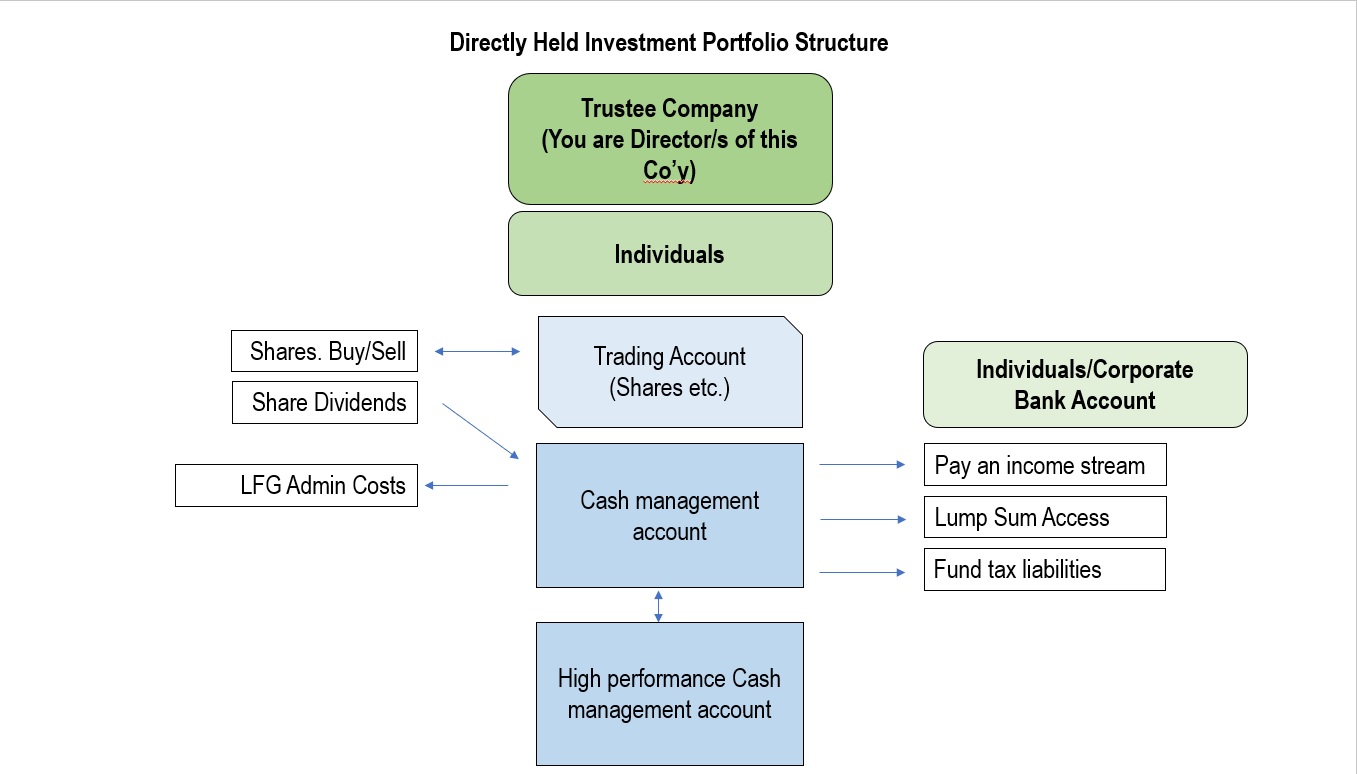 Who uses the Directly Held Investment Portfolio facility?
Whilst individuals and families utilise this structure to invest accumulated wealth, Corporate clients are some of our largest accounts.
Corporate entities find this a very attractive method for managing larger amounts of cash. Corporate structures can accumulate significant holdings in cash for many reasons. Perhaps most common is a strategy to draw down dividends post-retirement. The tax benefits of this strategy can be considerable.
LifeTime has more than 30 years of experience working with our clients and their accountants in this area.
The primary benefits include;
the opportunity to earn better than cash rates without tying up your capital unnecessarily
commence a drawdown of income when it suits you
invest your funds according to your personal/corporate preferences
have the funds managed professionally with full reporting and online access
full annual reporting to your accountants making reporting significantly easier for you
transparent and highly competitive cost structures
Why not call us today?
We would welcome the opportunity to meet with you and our initial meeting is at no cost or obligation. This initial meeting is an ideal time for us to get to know each other. After all, it is important we both feel comfortable and confident given we could be working together for quite a long time.