It is with great pleasure for LifeTime Financial Group to announce Hugo Sampson the winner of the 2017 Advice Evolution Adviser of the Year award. This is the second year in a row Hugo has been honoured with Adviser of the Year awarded across the national adviser base for Advice Evolution.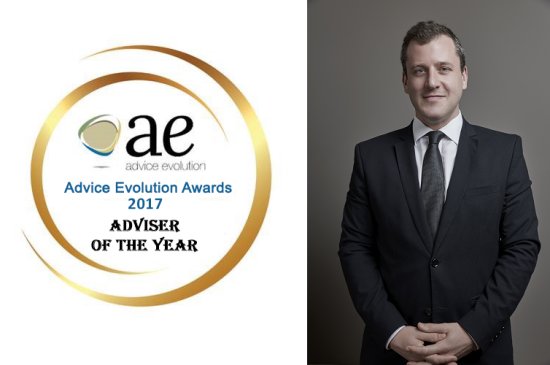 The Adviser of the Year award recognizes Hugo's excellent work ethic, his commitment to clients, the local community and financial services industry. Hugo has dedicated 15 years of his passion to this industry and is continuously learning and developing. He strives to provide excellence in all his endeavours and his client satisfaction is a true reflection of his hard work and dedication.
Hugo is a natural leader and plays a major role at Lifetime Financial Group in the management and development of the business and ensures that not only the clients are taken care of but the staff as well. His jovial personality creates an engaging environment and his in-depth knowledge of the financial services industry sparks meaningful conversations.
Hugo quotes: "It's a great honour to accept this award for the second year in a row. Advice Evolution is a fantastic licensee allowing us to provide the highest quality of service advice to our clients free from product bias. It's rare these days for advisers not to be connected to large financial institutions and our team of advisers across Australia is proud to stand by our adviser owned dealer group. I'd like acknowledge the wonderful team at Lifetime Financial Group for their true dedication to our clients and my amazing family for their support".
Lifetime Financial Group is part of an independent license focusing on clients rather than product. The award also recognises the work and dedication of the entire LFG team who have assisted to develop LFG into a leading Independent Australian financial planning practice. A business that offers tailored advice and solutions to clients while, creating a desirable workplace recognising the effort and dedication of the individual and the team at the same time.
LifeTime Financial Group are specialist (holding appropriate accreditations) advisors who are ideally positioned to assist you.
Would you like to discuss your personal position further with one of our highly qualified financial planners? Why not call us today on 03 9596-7733. There is no cost or obligation for our initial conversation/meeting.
Written by Anthony Stedman of LifeTime Financial Group. A leading privately owned Melbourne based Financial Planning practice.
Back to all News